Bill,
I've done everything I wanted to do to upgrade my '97 4.6L T-Bird. I've been buying upgrade parts from Super Coupe Performance since 2010. The Kooks headers, cats and exhaust, braking system upgrades, suspension components, front end braces & supports, custom chip, Addco front and rear sway bars, high end motor mounts, the transmission and various other components all came from SCP.
My car runs great and rides great! It handles superbly and corners like it's on rails. It also looks great. I appreciate your help over the last few years in getting my T-BIrd where I want it to be. Thanks for helping me turn my '97 T-Bird LX 4.6L into a high performance delight.
J. Ortiz
_______________________________________________________________________
Bill
I purchased the Addco 1 3/8" front and 1 1/4" rear sway bars for my 1998 Lincoln Mark VIII from SCP recently and I love them! I installed the rear bar myself. It is so quick and easy I don't know why anyone wouldn't. I drive the car a few miles each week (it's a hobby car – not a daily driver car), and the thicker rear bar pushed the handling into oversteer – completely safe but giving an odd "swooping" or diving into corners sensation. Then, after installation of the new front bar, everything was great.
I am absolutely content with the quality of the parts, fitment on the vehicle, and new handling characteristics. The difference is very apparent, and in my opinion the improvement in handling is absolutely worth the cost – the two kits plus $300.00 to have a garage install the front bar – it requires dropping the subframe.
I was aware of the comments of some buyers who said the 1 1/4 front bar had clearance problems, but there's plenty of clearance with my 1 & 3/8 bar. Also, I told Bill that my car was lowered about 1.5 in and the shorter links he included for the rear bar were exactly correct. At curb height the rear sway bar arms are exactly parallel to the ground!
Before buying them, I had seen some complaints on websites of problems with the Addco front bar having holes too big for the sway bar links, but planned to sleeve them with pieces of worm-clamp if necessary. In fact, after the garage installed it the mechanic told me that he had test driven it and there was a consistent "clunking" sound on cornering – exactly what would result from loose sway bar links. However, and this is the point I want to emphasize, when I brought it home (very slowly – clunking on every damn turn), jacked up the front, and checked it – I discovered that the idiot had torqued all the sway bar links to only 15 to 20 ft/lbs. After I retightened them all to 55 ft/lbs, there was no more clunking and hasn't been since.
Anyway, long story short, it is remarkable how much better my car handles with these bars, even on potholes and such it's not uncomfortable. I highly recommend the Addco sway bars for the Lincoln Mark VIII very enthusiastically, and I am entirely satisfied with SCP.
Thank you, Tomcat
_______________________________________________________________________
Hi Bill, I loved the custom SCP T-shirt and love your website and dedication to these cars. All your parts are of the best quality money can buy.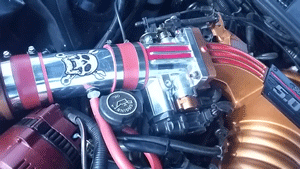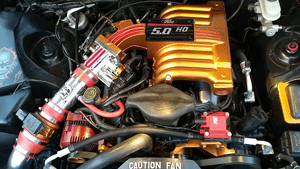 Just put the upgraded Throttle Body on I bought from you and it is looks and performs amazing. I plan to do much more business with you when the funds are available thanks
Thanks, Eric Clark
_______________________________________________________________________
Bill, My car is running great after replacing my crank sensor, a bit of a job but made easier thanks to you and others on the FB page. Thanks again for that. Don't worry, even though the 'Bird is in great shape I will always need parts as I plan on keeping it for ever if I can. It was my first car and I've had it since '95. It has a rebuilt long block and awesome exhaust system from you and I always come to you first when I need something. Thanks again for everything that you do!
Thanks again, Jeff Rundberg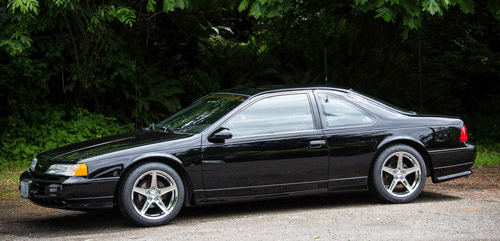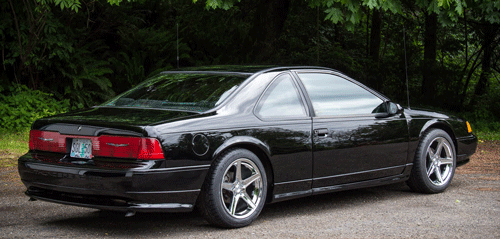 _______________________________________________________________________
Gotta say that my car is a lot less challenging to drive after putting a full front end suspension from SCP! Now when I take her up to speed (let's just say a "safe legal speed") and decide to scrub speed I know which way she's gonna go --- she goes the same way I have her pointed now. It used to be there was no telling which way she would dive, LOL!
Ted Mahavier
_______________________________________________________________________
Hey Bill,
I received the SCT custom performance chip I ordered last week and installed it over the weekend. I want to say Thank You for your technical insight and great service. I have put some miles on the car with the new chip installed and I absolutely love how it performs now. Your program really woke the engine up, and the acceleration and shifting makes it feel like a completely different car.
My '95 Mark VIII is one of the very few LSC models I've seen in Garnet Red before that color was replaced with Toreador Red. I picked the car up in December, 2016 for $900 with 168,000 miles on it. There is no body rust or suspension problems and I think it was a steal.
Since then I have converted to a spring type suspension and installed a center-mounted muffler in place of the 3rd cat and rear mufflers. At 200K miles I plan on rebuilding the drivetrain and installing tumble port heads (utilizing a pair of B-Intake/C-Head adapter plates I got from a '99 Continental), Cobra cams, Kooks headers, and 3.73:1 rear gears with a Traction Lok unit.

My Mark VIII has been a fantastic first car and I plan on owning many more when I get out of college. Thanks again for your help Bill.
Michael Zobl
_______________________________________________________________________
I purchased my Super Coupe when it was brand new back in 1989. It started life as my daily driver and has been evolved in a variety of ways starting around 2000. About 15 years ago after I had added some upgrades I started to do track day events with it here in the South East.
Well as with any racer, I couldn't stop! I was a crew chief on late models for years, so once I started honing my road race skills it was on. Full out assault on the T-Bird. After becoming an instructor, I starting racing in NASA American IRON Extreme. The car went through many phases of the build with some being good and others not so much.
The way the car now sits is full out race car. I've been dealing with Bill at Super Coupe Performance for over 10 years and he always take care of my needs quickly and efficiently. I've purchased too many items to remember but I've ordered many of their upgraded bushings, Kooks long tube headers, upsized throttle body, and more. Recently I got a set of their solid aluminum rear subframe bushings and have been very please with them. Another recent purchase is their new tubular rear upper control arms and UMHW outer rear knuckle bushings. The improved design of these suspension parts has been a huge help to the handling of my car.
Bill is a true professional, he is helpful, and has sent my parts to me extremely fast. I look forward to doing business with Bill for many years to come!
Ralph Sparveri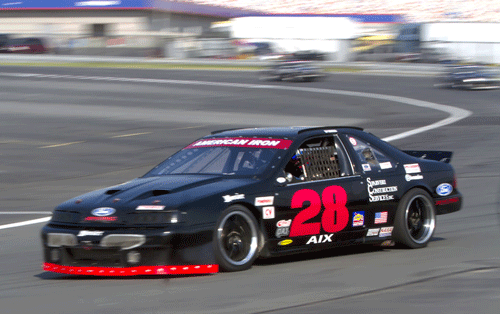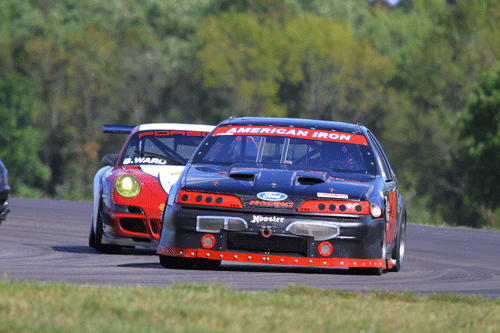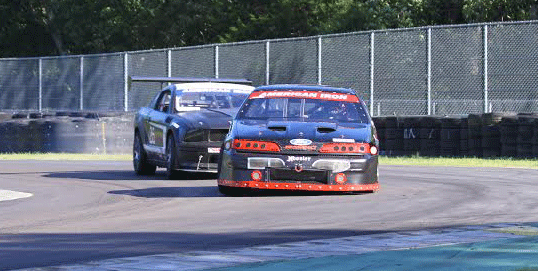 _______________________________________________________________________
Hi Bill,
My team recently ran the Ohio Mile at 177 mph in our '98 Mark VIII. It has a '04 Mach 1 engine with a Sullivan carb intake and a 125hp NOS kit. We are using the SCP / Kooks Mark VIII headers and the front and rear QA1 Coil Over kit you offer at Super Coupe performance. The coil overs are a great fit for getting the ride height right. These were the best way to make the ride height adjustable and stable at high speeds. They performed perfectly.
The car is driven by Tara Fling and the crew is Sean Fling, Wayne Fling and Shawn Anderson. Next stop 200 mph!!
Sean Anderson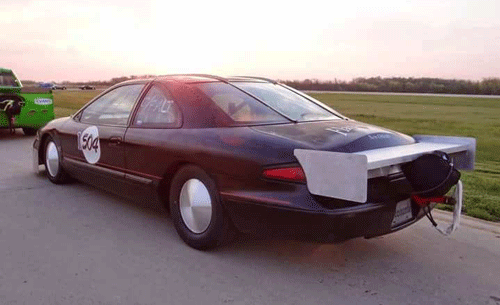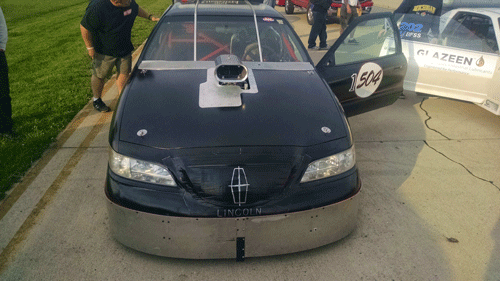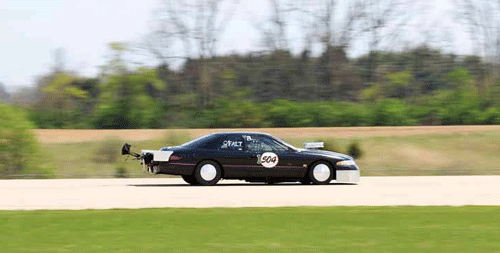 _______________________________________________________________________
Hi Bill,

I wanted you to know that I am EXTREMELY pleased with the Supreme Seat Cover package I purchased from you. I wanted to stay as close to the factory original 35th scheme as possible but still go with contrasting gray stitching and the outcome was superb! I had a local auto upholstery shop install them for me. I just took them the seats (front & rear) and the seat cover kit and they did a very nice install job for only $165! They have been in the business for 30+ years and commented how nice the craftsmanship was for the covers.

I know you stated that other 35th Anny customers thought the suede material was too light compared to factory but I found what you supplied me was spot-on color-wise with the original pigskin suede. I found a spot of the original suede on the rears that was never exposed to air or sunlight and your covers matched that color perfectly.

Anyway, kudos to you for working with me to supply me with what I really wanted.


Thanks again,
Paul Protos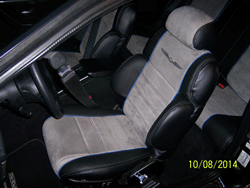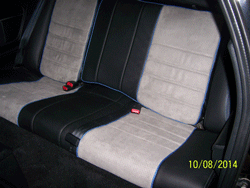 ---
Bill, I just wanna say thank you so much for all your help with this 93 SC. You have been instrumental in getting it where it is today.
Every part I have purchased has been a direct fit. Bill knows these SC's so well, I think he designed and engineered the car and Ford just built it. I have purchased many, many things from Bill and if there is any doubt about SCP and his vast knowledge of the Super Coupe take a look at mine.
After a head gasket failure and 140k on the clock, it was time to breath new life into this Bird of Prey. No way was this bird going to the bone yard. It stared with a new engine, tranny, SCP exhaust and it still hasnt stopped.
Please share the video I made of the exhaust system. It sounds awesome and I love the low rumble!
C. Brekke
---
Hi Bill,
I love my new performance transmission valve body and high stall torque converter I purchased recently from SCP. Both work great! The valve body for my '94 SC was built for 300 to 350hp and shifts are noticeably quicker but not harsh to the point of banging of parts or feeling that something may break. It's just perfect. The gear changes are instant and down shifts are quick. Pulling away normally it's hard to tell when it shifts to second because it's so quick, but if you wind first gear out the second gear shift is quick and firm. Second to third is also instantaneous with no lag and third to overdrive is firm again. This is a definite improvement over factory settings. The SC should have come like this from the factory. Little things like this valve body make the car way more fun and enjoyable.
I'm still getting used to the feel of the higher stall converter. It and the shift improving valve body work well together. Launches are definitely improved. I haven't put the trans cooler in yet but I have been enjoying the improved exhaust down tubes, Addco sway bar and power pulleys I purchased last year.
B. Krepps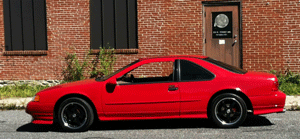 ---
The Livewires I ordered from Super Coupe Performance arrived today in Brazil. There were no tax issues and they arrived in record time for a International Priority Mail package. The wires have an unbelievable quality compared to Taylor or MSD wires and fit much better too on my '95 V6 Mustang with a Tbird SC supercharger upgrade.
Thank you and Best Regards,
G. Galdino
---
Hey Bill, just wanted to show you the progress on my Bird. The engine is in and running but not completely finished yet but it's coming along. I also wanted to say that I am very pleased with the service I received and the parts as well.
I will definitely be purchasing more from Super Coupe Performance in the near future!
Thanks, Kody Macdonald
---
Video customer testimonial
---
Video customers testimonial
---
Video customers testimonial
---
Hello Bill
I would like to tell you how impressed my girlfriend and I are with the help you have given me and the knowledge of what you do. You have went above and beyond and have been an awesome help thus far. I am very glad that I chose you as the supplier for my Super Coupe parts.
The research that you have done for me is outstanding. Just so you know I will continue to purchase my components from you. I want to have the fastest Super Coupe in my area and I want to hear "WOWs" when I run down the track if you know what I mean.
Don't mean to burn up a bunch of you time, but once again I would like to tell you Thanks! You have my vote for the best supplier of the year.

R. Turner
---
Thanks to Bill @ SCP my one of a kind '89 Thunderbird Super Coupe is up and running perfect like its 1989 again. He always is there to help over the phone with parts and advice. He has no problem taking pictures of used items he has available and sending them to me via Email. Bill has been a great help and is a big reason I'm still able to have a car from 23 years ago look and drive like its brand new.
Thank You Bill! Sorry for the 100 phone calls per day = D
---
Brother Bill,
I put the SCP solid rubber motor and tranny mounts on yesterday. Very nice products! The crank pulley is no longer touching the sway bar :) The 3" cat-back exhaust system fit great too. I can't wait to hear it. I'm looking forward to getting the Kooks mid-length headers on.
Thanks for the great products!
Sincerely, Kurt Sunday
---
Bill,
Thanks for all your help and advice with my Thunderbird. I just installed the Front Suspension Support Brace and the Lower Engine Cradle Brace and what a difference they have made!
Before installation I had a chatter from the clutch when starting out. I thought it may be the engine mounts but the new cradle braces took all the chatter out and the clutch works very smooth now. I also installed your Addco rear 1 1/8" rear sway bar and a new set of KYB shocks and the car really handles nice! Bill I have owned many great cars with many being Mercedes SLs, including one 1958 300SL roadster. I've also owned late model Mustang GTs, a Acura NSX plus many others but I really enjoy driving my Super Coupe as much, if not more, than any of the others.
Don LaFaver
---
Video customer testimonial
---
Video customer testimonial.
---
Video customer testimonial.
---
Video customer testimonial.
---
Video customer testimonial.
---
Bill,
I just want to thank uou for all your help on my Bird. I just got done lowering it with the Vogtland 1.6" drop springs, the poly spring isolators, and the short rear sway bar end links I purchased.
It looks awesome. Rides better too! Your help & advice on the shocks was great I will definitely be ordering from you again soon. I'll be looking at the rear subframe brace and the strut tower brace.
Thank you for your help and keep up the great work.
Josh
---
Bill,
Today I finally got around to installing the SCP Rear Cover Brace in my '97 Bird. It went on slick and easy in about 20 minutes. Guys in the shop were commenting about what a nice piece of work it was. No tapping for the grade 8 bolts was required. Just a true bolt on.
My best, Al LeBouton
---
Hi Bill,
I just wanted to thank you and to tell you that that was the fastest and best service I ever received from an Internet order. Your service was outstanding and I would definitely order from you again if need be. Sorry it took me so long to let you know I am really happy with my purchase.
Thanks again and have a great day. Fran Kaszowski
Also, thank you for answering all of my sons (Dan) questions.
---
Hey Bill,
Just wanted to let you know that I tried to fix my non-functioning odometer/trip by replacing the complete speedometer cluster twice and the Vehicle Speed Sensor. After search the web for an answer for a while I ran across your site and saw your new Odometer Repair Kit for my car. I was not sure this was going to work because of the previous failures with my attempts, but I ordered the parts and followed the complete instructions with pictures and I now have a working odometer/trip.
Thanks, J. Steve Fulton
---
Hi Bill,
I just wanted to let you know that I installed my Art Carr AOD Manual/Automatic valve body that I recently purchased from you and I LOVE IT.
I wrote and expressed some concerns about not being able to lock out OD but you're right, it's not an issue. I truly can't believe the difference this has made in the shift performance and quality feel of my transmission. Of all my mods this one is easily the single most noticeable mod that can be made for the money and time it requires to install. Nothing else even comes close. You'd think it was an entirely different transmission.
Well, I know you already know this stuff, but I just wanted to say thanks and I appreciate your help with these things.
Thanks again, Warren York
---
Dear Super Coupe Performance,
I purchased one the SCP '96-97 Ram-Air hoods and I wanted to report that I think it is awesome. The body shop that installed it told me they have seen few fiberglass hoods with this much ease of fitment and amount of quality. I had another fiberglass hood before I purchased this one and there is no comparison.
Bill @ SCP is great to deal with and I will definitely be a returning customer. Help support one of the few companies that cater to the MN12 cars!
Bradd Finch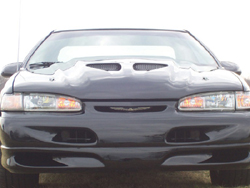 ---
Bill,
Just wanted to let you know how truly pleased with the results my car has put out. To start with I had the car dynoed back in Feb. of last year with just the headers, high flow cats, and the 2 1/2"-3"-dual 2 1/2 system you offer. The results from that run were at 204 RWHP, and 265 RWTQ. Since then I have added the 9" conical air filter, 76mm MAFS, 3" Fresh Air Intake, 75mm T-Body, Magnum Powers Inlet Plenum, "S" Port Blower, 38lb Fuel Injectors, I/C Fan, 190LPH Fuel Pump, and your custom Chip with 93 octane performance tune. The car now stands at 247 RWHP, and 299 RWTQ.
Once I had the numbers, I definitely saw a need to change the center of gravity and stiffen up the rear anti-sway bar to make the ride just a little more stable. With your help, I used Tokico Illumina II's, the Eibach lowering kit, and the Addco 1 1/4" Rear Sway Bar. The results were phenomenal! From a stop I can accelerate through a left hand turn , and be at 50-55 mph prior to the straight without any symptoms of body roll, loss of rear grip, or forward bite. Basically, she is just the way Ford should have done it in the first place...PERFECT!
Thank you for all of your help in the achievement of my goals.
Erin Fogerty, USN
---
Hi Bill,
I just wanted to give you some feedback on the 4R70W transmission and converter I ordered from you. Over the past year I redid my 95 Cougar's engine, transmission, remaining drivetrain, and suspension. Upon completing the 4.6 custom PI motor I needed a transmission that was able to take the increased power, abuse from the use at the strip, as well as street duty. The upgraded 4R70W trans and 9.5 inch converter are holding up very very well. The shifts are firm and aggressive, but still very streetable. The stall speed on the converter is just right for my engines rpm range and allows the car to launch hard and compliment the 4:30 rear gear ratio I am currently using.
Your transmission builder has done a fine job with this set up and i would certainly recommend these components to anyone who wants top quality and dependable performance. I have the car running 12.93 at its best so far [that's with a lot of tire spin] and its naturally aspirated. Even with the motor putting out well over three hundred horses to the wheels, the new trans sure helps making these kind of quarter mile ET's a possibility.
Also, the 4.6L 3/4 length Kooks headers are fantastic. There were absolutely no fitment problems at all! A real nice product. I am also using the 2.5 inch high flow cats you sent. If you mount them close to the headers there is plenty of room to get them in there. The only downside is that you are a bit limited to how low you can go with the cars suspension. I have a 1.7 inch drop and that's about as low as you can go to keep things from scraping [watch those speed bumps!].
I have also included a couple of pics of the finished car. I am very interested in the '89-93 Mach 1 hood your offering. I'm talking with my body man to see if it will be feasible to rework the front
section to fit the 95 Cougar application as it does not look too difficult. Thanks a bunch for offering these great items, and the wonderful customer service.
Take care, Jeff Sauber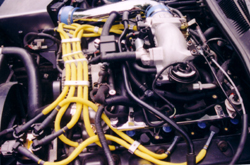 ---
Bill,
Thank you so much for the products I have ordered from you. I love everything I have purchased from you, from the front clear corners, headlights, sway bars, springs, KONI shocks, bushings, and the massive amounts of engine mods. I think of myself as a bargain shopper and I have always checked around for the best prices and so far no one can compare. It is excellent to have the convenience to be able to drive right up to your shop and get the parts that day; as well as, being able to call you anytime and get advice and information. I am sure to be getting more parts from you ASAP and I really appreciate doing business with you.

Sincerely, Zachary Lowe
---
Hi Bill,
I recently received the 1 5/8 x 2.5" Kooks/SCP headers for my '97 4.6L V8 Thunderbird and simply love them! They have really helped to wake up my car. The great exhaust, along with my Allen Engine Supercharger kit, and a 2001 PI head Romeo engine have helped out a lot. I recently went to the track and blew away a C5 Corvette racing next to me. My best time for the day was 12.92 at over 107 mph!! Thanks again for offering these awesome parts.
Steven Watson
---
Bill at Super Coupe Performance,

I thought I would give you guys credit for your help. My '95 Cougar has a 5.0 swap with a killer ATI Pro Charger. I bought a couple of parts from you guys and they have worked out great! I really appreciate it.


Dave
---
Hi Bill,
I want to let you know that I purchased everything from the exhaust manifolds back for the exhaust system and I am really happy with the results of the sound and performance. I had a local shop do the installation and had everything welded together fine.
I wasn't sure how it was going to sound. There are a couple of Taurus SHO's around and some XR-7's with exhaust work, but they sound lousy. This system has a nice deep rumble to it. Not obnoxious like the imports with the paint can exhaust tips. It sounds awesome!
My friend has a Lexus IS300 and we were riding back on the highway and we had a little fun. I was worried that the Lexus would take me considering it has the same engine as the Supra and it is a smaller lighter car. I kept the car in drive (not the OD) and we both nailed it. He had a slight jump on me, but after the spark plugs cleared themselves out (really fouled) I caught him and started to pull away. I am happy with the exhaust and I hope you are happy that your product can make a difference even if the car is not running at 100% and can still put some newer cars to shame.
Now I need to work on the intake side of the car and really spank some import a$$. Thunderbirds ROCK!
Thank you, Christian Morvan
---
Dear SCP,
I ordered a set of 17x9 Cobra R rims from you for my '91 Thunderbird. They look great!! I have also used your website to find some other parts for my car which include a Cervini wing and a Cobra R hood. Which I am still waiting for. I thought I would send a picture of it now. It has the Rims and wing on it it has been lowered and soon will have the Cobra R hood and a fresh paint job.

Thank you for all of your help. A very satisfied customer.

Mike Blevins
---
Dear Bill,
Thank you so much for all the help that you have given to me over the past year. When I first bought my '95 SC, I knew little to nothing about my car. With your help you have made my car into a fine tuned, dramatically quicker SC.
I thank you again for all the help and advice. I look forward to doing more business with you in the future. Thanks for the wonderful / quick service and shipping.
Sincerely, Mickey Heise Richmond, Virginia
---
To: Super Coupe Performance

Dear Bill,
I wanted to write this letter to you telling you how pleased I am with the performance equipment I purchased from your establishment. All too frequently in this world, the good we do, is far overlooked, and all we hear is the bad. I had occasion to use your company when a customer of mine wanted to add some performance to his son's Thunderbird SC, but I'm getting ahead of myself here.
I run a Porsche only performance establishment. We build racing cars, (for road racing), high performance street cars, (six of our cars stared on Miami Vice), and very expensive Porsche racing engines. Also we build many of our own parts and have them manufactured for us. I have a very high buck clientele and money is generally no object to our customers--only performance.
My background with speed is quite thorough. While in the United States Air Force I was a command pilot flying B-52 D's with 202 combat missions into North Vietnam, and then was recruited by Central Intelligence to fly F-111's into Laos and Cambodia. After my tour of duty, I became involved in road racing and spent 10 years professionally driving Porsche racing cars all over the world. As an example, I Gave competed in the he 24 Hours of LeMans 6 times, so I am no freshman to the world of high performance and speed, be it in the air or on the ground.
I had a customer who had a very tricked out Porsche and he wanted to do something for his son's 1989 Thunderbird SC. This man spends quite a lot of money with me and although I do not work on `American Iron', I couldn't refuse his requests for us to work on his son's car. The key to this project was (a) Performance, (b) reliability, (c) cost effectiveness. To make a long story short, I did my homework, and ended up talking with you on the telephone to buy some parts. I was impressed with your honesty--(I love dealing with straight shooters)--knowledge and sincerity. I decided to deal with your company and am most pleased with my decision to do so.
As you know, we spent a tidy sum of dollars with you but received every penny worth in return in great products, factual information and the assurance that you would be there if we had a problem down the line. We were pleased with your service, expertise and the quality of the parts. Now the story gets a bit more interesting.
Almost after completion of the car, this man's son got himself into some trouble and `Dad' decided that he would forgo the pleasure of having such a car as his punishment. The gentleman asked me if I would sell it for him and I told him that I would do my best.
The equipment we put on the car and our bill was quite healthy . . .Your exhaust, the full length headers, larger throttle body, larger Mass Air Flow, larger injectors, fuel pump, Magnecor wires, drilled rotors with KVR brake pads/rotors, Koni shocks, Eibach springs, fresh air induction kit, raised Supercharger kit, overdrive pulley, intercooler fan, performance clutch ...the list goes on and on, as you know because you sold us the parts.
After completion of the car, I had the job of test driving it and sorting it out. BOY, WAS I SURPRISED! Being use to driving Porsche automobiles, I didn't expect to be too impressed--this 3600 lb Detroit Iron will rock and roll. All of a sudden I was transported back in time to my youth and all the quick Fords I had toiled over burning the midnight oil. The parts performed as stated, and the car was a virtual rocket ship considering its heritage and weight.
I BOUGHT THE CAR.
I now use this as my daily driver, and love every minute of it. It's got the sound, the performance, goes around corners and stops as good as most Porsche's running around on the streets today. I get comments on the car constantly and cannot believe how this eleven year old heavy-weight just flat out runs. I had occasion two weeks ago, while doing some Porsche testing at the Honda test center in Ohio to do a top speed run with the car. Would it surprise you to know that this car, with the modifications listed above will do an honest 167.45 miles per hour, and it only takes a tad more than 3/4 of a mile to get there. NOW THAT'S PERFORMANCE!
I want to thank you for your excellent advice, knowledge and great parts. You are THE MAN! I have enclosed a picture of the car and you may use the photo and this letter in any way you so desire. More Thunderbird owners who are seeking great performance need to know of your service and expertise.
Sincerely,
Clay Dopke, Managing Director
Dopke/Design Motorsports, Porsche High Performance Specialists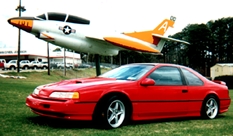 ---
Dear Bill,
I installed that complete exhaust system I purchased from SCP. My friend says (before installing it) "No, they don't make 'em on a car, they just make a jig after 1 or 2 of them". He ate his words! What a perfect fit! What a perfect sound too! It is very throaty, yet not loud like glass packs. 6 cylinders and glass packs just don't work, but this system does! I also installed the SCP Fresh Air Induction System and am equally happy with it.
Again, thanks for the awesome package. I am very pleased.
Bob Edwards, Vancouver, Washington

---
To: Bill Evanoff @ Super Coupe Performance

From: Phil Kuhn, Erie, PA
'93 SC 5-speed
Re: Magnum Powers "Classic" Cast Raised Supercharger Top & ProM Bullet

Dear Bill,
I'm dropping you a note as a follow-up about the Magnum Powers raised top I purchased from you last fall. Everything arrived in the mail promptly and after a quick visual inspection it was off to my dyno shop for installation and testing. I was pleased that everything went smoothly and the top was actually pretty easy to install. As expected, the looks of the top were 2nd to none and I still have that nice, desirable stock appearance, which was important to me. Quickly, we strapped my car up to the dyno for the much-anticipated pull. I'd like to mention I also installed the Pro-M 75 Bullet maf meter at the same time to minimize dyno costs.
The 1st pull produced a net gain of +6 PEAK rear wheel horsepower which initially had me somewhat disappointed at this seemingly small gain, but further inspection of my HP and torque curves showed gains of +15 to +20 HP and +20 ft-lbs of torque in the 4500-5000 rpm range!

I was well pleased at this simple bolt-on mod and would recommend it to any SC enthusiast who's interested in improving performance of their car in the upper rpm band while keeping the stock looks of the blower. My hat is of to you for offering a fine product at a fair price and my dyno printouts prove this as a worthwhile mod.
Sincerely, Phil Kuhn
---
To: Bill Evanoff
Super Coupe Performance
I just wanted to let you know how amazed I am with the performance gain from the 70mm Throttle Body I recently purchased from Super Coupe Performance. It was very easy to install and really improved my acceleration and throttle response tremendously. The gas pedal definitely stiffened after I put it on and feels like the throttle on my dad's modified '94 Corvette which also has a BBK/Edlebrock Throttle Body. I would highly recommend to anyone the BBK 70mm Throttle Body.
You are not getting the most out of your mods, no matter how minor they may be, without it.
Sincerely, Joey Guevara, Oklahoma City, OK
---
Super Coupe Performance
Dear Bill,
Thank you sooo much! I love my car (hahaha)- I haven't stopped smiling since I put on the 70mm throttle body and the SCP Fresh Air System. I could tell the difference from the moment I first put down the gas pedal. I am very satisfied!
Once again- thanks much!
Inmar Barrera
---
Super Coupe Performance/SCCoA
Hi Bill
I'm enjoying reading latest Chargin' Thunder issue. I truly wish it was possible to participate at an official SCCoA function. Unfortunately, all of them are so far away from Auburn, WA! (Seattle)
I took your advise and love the snappy throttle response after just replacing my SC's center resonator with the Magnaflow High Flow Resonator! The guy that installed it for me went on and on about how "it" wouldn't do anything... and if I wanted to improve performance I should start by replacing just the rear mufflers with some cheap-ass "turbo" ones he had on sale! Remembering what you had said, about starting in front and working toward the rear of the car......I stuck to my guns; and wow, what a difference!!!
I had my mechanic install the Trans-Go shift kit in my AOD too. Love it as well...! My '90 SC came with 3.27:1 gears; and surprisingly enough, my little 8.8" trac-lock axle still hooks up every time. Until she blows or the clutches die, I'll stick with the original setup...(I'm keeping an open ear toward any Lincoln Mark VIII with the aluminum housing and 3.55:1's though!)
Must comment that my Trans-Go was set up at the mildest setting, yet has no problem "gettin' rubber" from 2nd to 3rd. (IN DRIVE!) This is how she runs out so far...In O/D, not "D", my car runs 1st to 5,000 RPM, 2nd to 4,900 and then 3rd until the up-shift alarm sounds. (and I chicken out at 105MPH @ 4,000RPM and let up.) That makes the 3rd to 4th (O/D) shift around 4,000 RPM at sea level, with about 13 lbs. of boost reading on my gauge.
The car only has 94,000 miles on it. And only 5,000 since a major engine overhaul necessitated by head gaskets, followed by lots of other parts.... (just cause I was already in there). That said, I feel the motor is very strong!
Thank you for the latest round of SCP parts and for providing such a great club in honor of Ford's best kept secret sleeper!
Steven Skoumal
---
Bill @ SCP
I received the SCP/Magnaflow resonator and had it installed. I'm impressed!!
I thought that I would get noise from it but was I surprised. It sounds great and I also saw a definite increase in performance. Good upgrade!
Sincerely, Ed Springer
---
To Bill Evanoff at SCP

Dear Bill,

It was a pleasure to do business with you recently. I appreciated how you completely answered all of my questions regarding the bolt-ons that I purchased. I installed the underdrive pulley set, a 5% SC overdrive pulley, C&L 73mm MAF, and the intercooler fan. You also gave me valuable advise on some methods to improve my stock exhaust flow (I'm on a budget).

Torque has improved dramatically across the rpm band! (picked up 40 - 50 ft lbs peak). Just by adding these bolt-ons it feels like the car will do mid 14 second quarters now and 0 - 60 is fantastic. I am really getting a lot of fun out of this car now. It no longer feels like a moderate mid 15 second performance vehicle anymore. I have just purchased the Magnum Powers Classic raised SC top from you and there is no doubt in my mind that I will get even more real power gains from this in the mid to high rpm band. When I'm finished with the rest of the upgrades over time I will have a serious performance Super Coupe.

Thank you Bill!

Sincerely, Randy Curry